Musiques en scène
Documentaries about french bands and singers

each thursday in July
6.30 pm at auditorium AFB
Entry free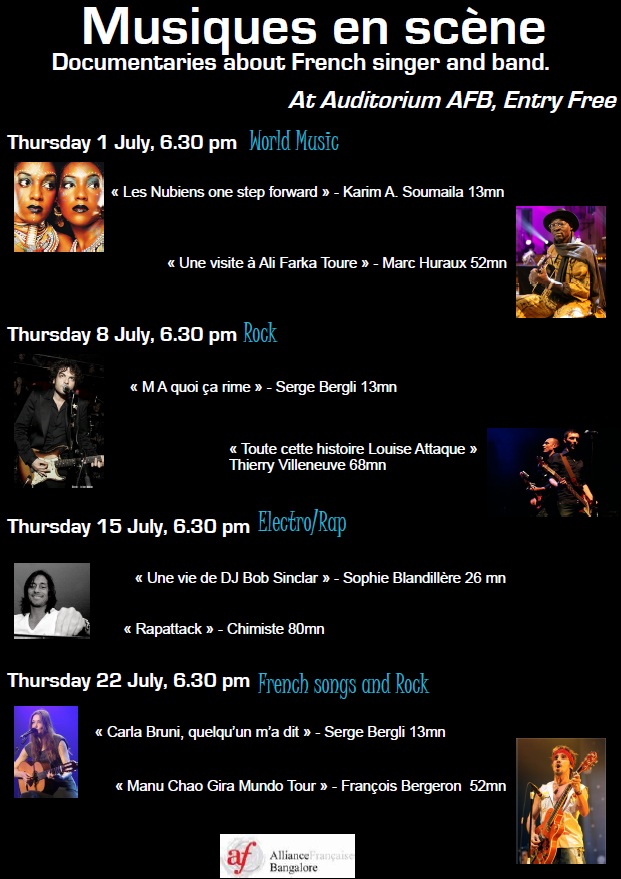 Thursday 1 July
« Les Nubiens one step forward » - Karim A. Soumaila
13' - Emi/Virgin 2003
An unconventional female duo that came from Bordeaux, France, in the 1990s, Les Nubiens offer a jazzy, sophisticated style of R&B that combine French lyrics with the influence of Sade, Soul II Soul, hip-hop, and African pop. The duo consists of sisters Helene and Celia Faussart, who were born in France to a French father and a Cameroonian mother.
« Une visite à Ali Farka Toure » - Marc Huraux
52' - Arte France Films d'Ici 2000
"The bluesman of the desert", as he is known in the West, draws us into his own story, and that involves a highly specific geographical region: Niafunké in northern Mali, lying between the desert and the meandering Niger. This magical, hybrid world is where Ali Farka Touré really draws his musical inspiration. Traditional sources have mingled with American soul and blues to produce a great international musician who has remained true to his origins.
Thursday 8 July
« M A quoi ça rime » - Serge Bergli
13' - Morgane Production 2003
Funny, original sounds, sense of scene characterized –M-. Son of Louis Chedid and little son of the poet Andrée Chedid He performed at the edge of the Nil in Egypt with a memorable concert during the Fête de la Musique.
« Toute cette histoire Louise Attaque » - Thierry Villeneuve
68' - Capharnaum Production 2001
French folk-rock quartet Louise Attaque emerged as one of the most successful new acts of their generation through their award won in 1997. Coming out in April 1997, Louise Attaque's eponymous album slowly but surely proved a great success, ultimately selling more than 2.5 million copies in spite of limited marketing.

Thursday 15 July
« Une vie de DJ Bob Sinclar » - Sophie Blandillère
26' - 909 Production 2003
One of the most popular French DJs in the world is Christopher Friant alias DJ Bob Sinclar. He created the label 'Yellow', which would make known the best DJs of the 'French touch'.
« Rapattack » - Chimiste
80' - MB Production 2002
This documentary, directed by Chimiste (Chemist) (founder of Label Arsenal), traces the history of twenty years of rap in the company of more than eighty major names including NTM, IAM, Cut Killer, 113, Disiz fever ...
Thursday 22 July
« Carla Bruni, quelqu'un m'a dit » - Serge Bergli
13' - Naive 2003
The challenge was worthy of her talent: an ex-model writing and singing, yet crowned with the title of "Female Artist of the Year" at the Victoires de la Musique 2004! A success on stage, and her first album sold 1 million copies in France and 300 000 in the world.
« Manu Chao Gira Mundo Tour » - François Bergeron
52' - Morgane Production 2000
A Parisian born to Spanish parents, MANU CHAO first experienced success with the group, Mano Negra Since then, he has continued to compose and write, seeking inspiration in traveling and wandering.

Melanie




Posts

: 70


Age

: 32


Join date

: 2010-02-25


Location

: Bangalore




---
Permissions in this forum:
You
cannot
reply to topics in this forum